I found a good deal on some new forks with a matching set of trees for a 77 model to replace the leading link ones. Unfortunately I have to figure out what to do with my brake plate now. Apparently the earlier model brake plates were spaced differently, so I need to remove some meat to get it all to fit right.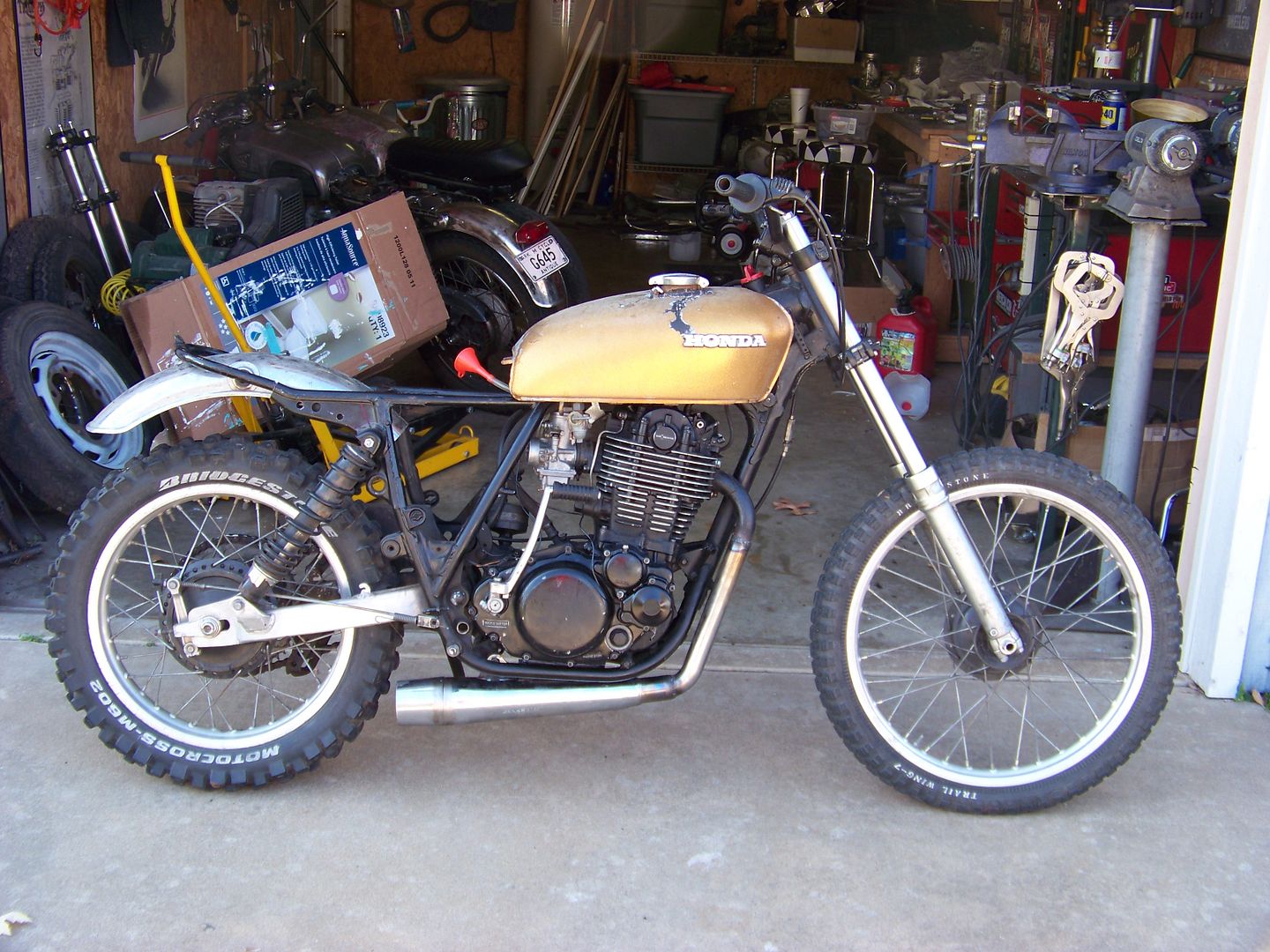 Speaking of brake plates, I found that a yz something or other shares the same size brake plate with the exception that the yz is a twin leading shoe and the tt is a single. What's cool about that is I've had this wheel leftover from my old xs650 project, so it's a freebie and extra braking power. The tt plate cable boss is broken anyways, so it works out rather well.

Broken stock plate.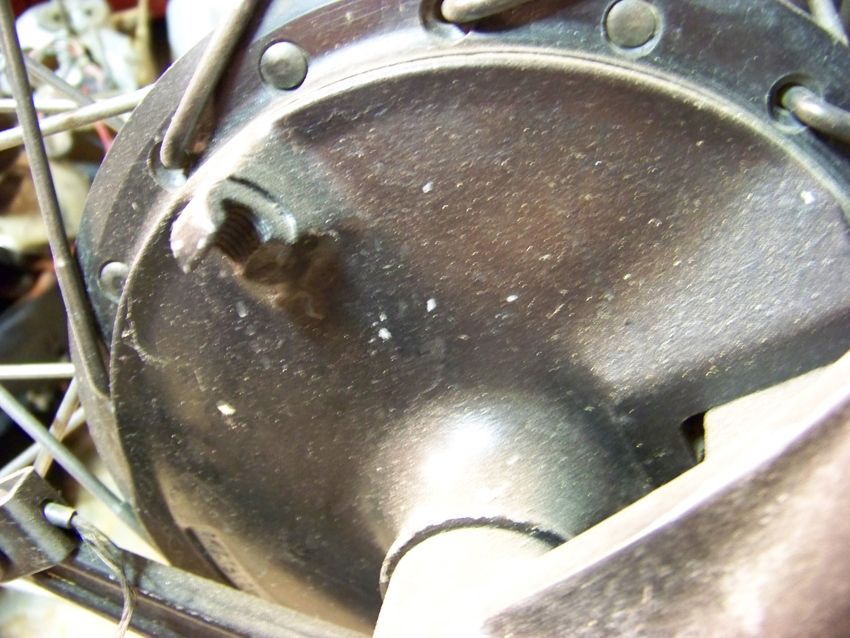 Tls yz plate.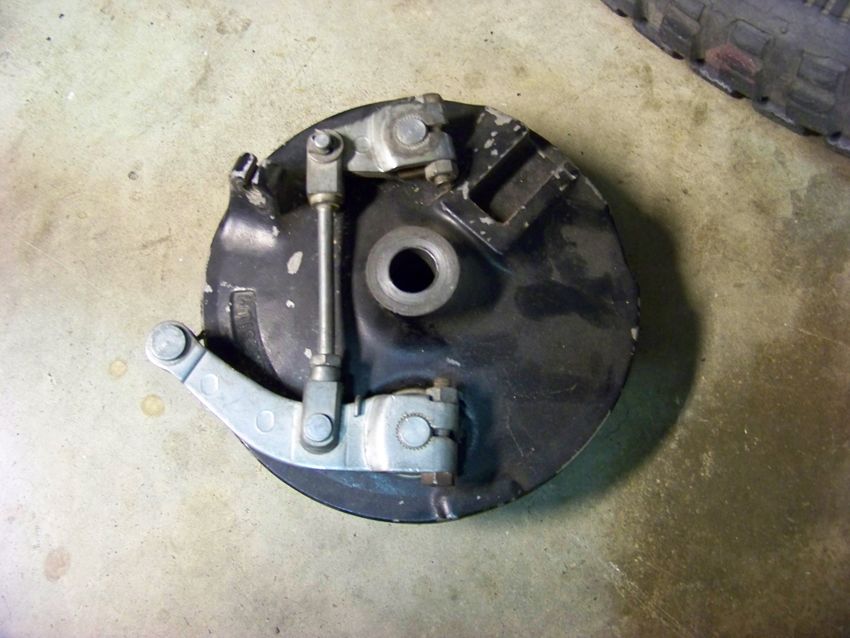 Started hacking into the frame a bit.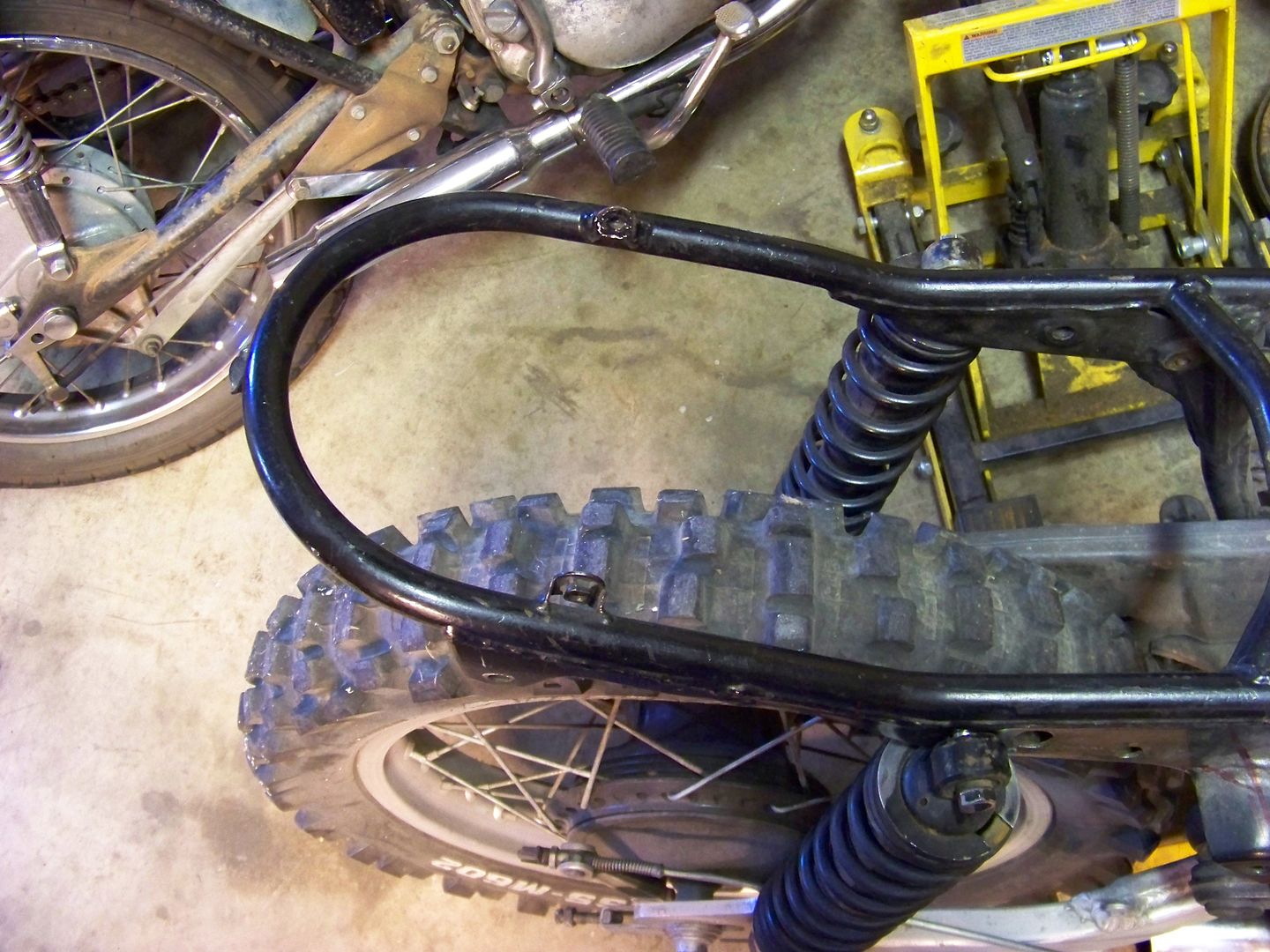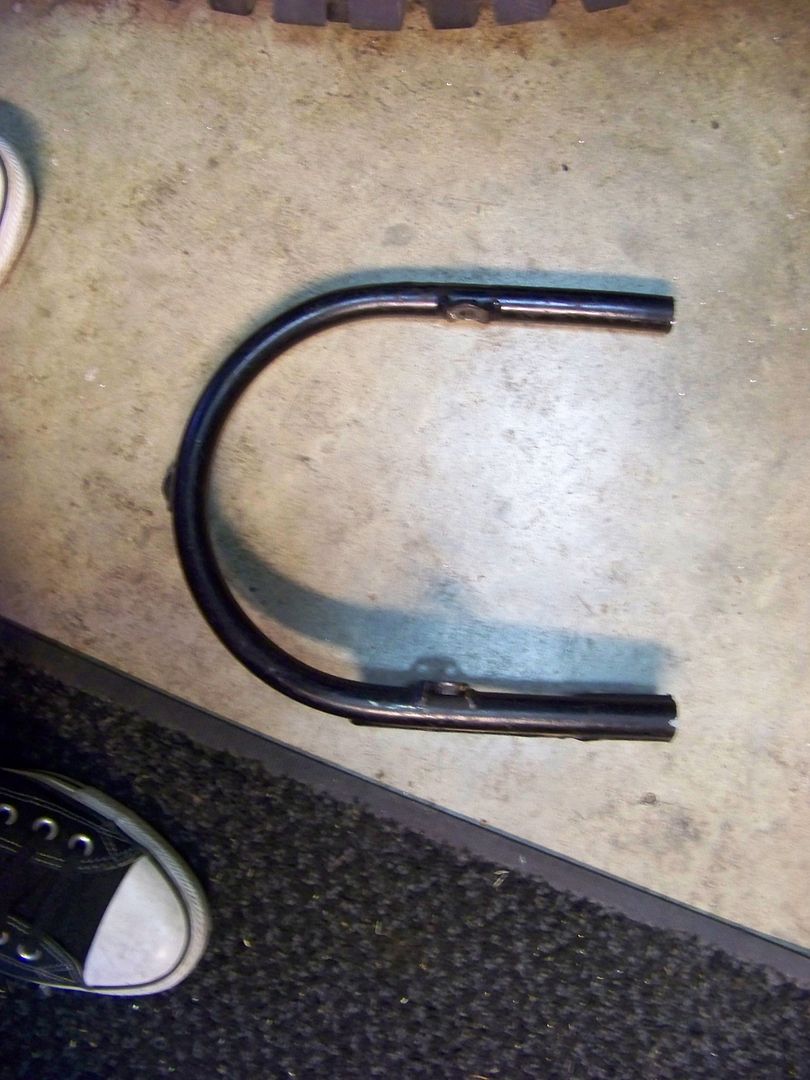 I needed a clutch tool, so I took a grinder disc tool, drilled a couple holes in a roached clutch plate, and tack welded it in place. Worked great.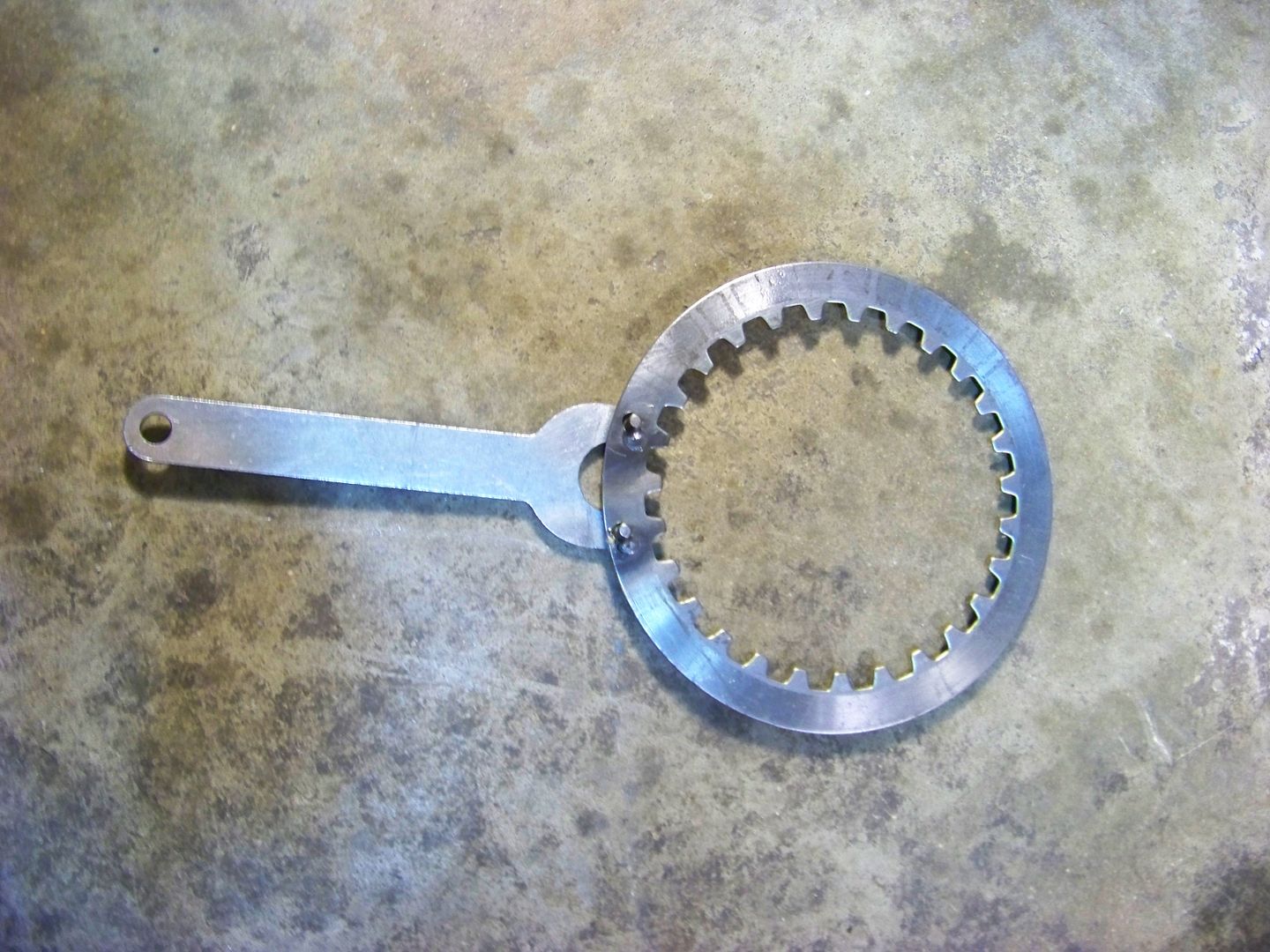 Before putting everything back together I realized I never cleaned the screen of the downtube filter. Glad I did, because it was nasty.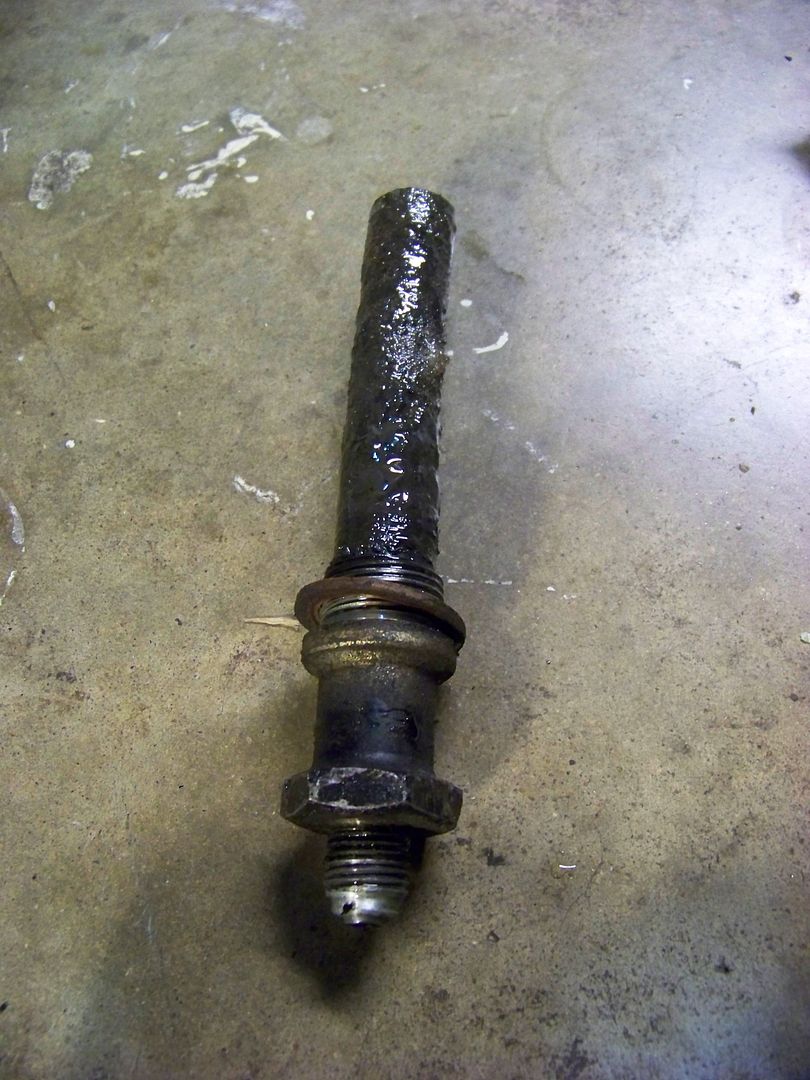 Fresh oil. Key on. Fuel on. I got a ball of flame twice, but that's it. I kicked and kicked and kicked and kicked. Nothing. Spark is nice and fat. Static timing is spot on, so I decide to dig into the carb and see if there is anything that looks wrong. The float looked like it was in a car accident, cause it was bent in every direction possible, and neither side were remotely where they should have been. With everything apart I decided to clean all the jets, body, etc. When putting it all back together, I noticed the pilot screw was missing a spring and o-ring. I think I can find something in my parts stash that should work, but not sure yet. The parts are now considered obsolete, so that's pretty awesome. If anyone has those parts laying around, let me know. Good news of the night was the oil made it to the bleeder!




After a few more hours scratching my head last night re-checking everything over and over and over with the same result, it was obvious something in my timing wasn't right. So far I had only got a couple balls of flames, and that was a rare occurrence at that. You know what they say, 99% of all carb problems are electrical. A quick google search of "tt500 backfire" and 5 minutes of reading later I found out the issue. When I put the points cam gear in place, I didn't line up the dots on the proper stroke. The manual doesn't mention the importance of this, or even make mention other than just that the dots need to be lined up. I don't recall which stroke it should be on at the moment, but you obviously have a 50/50 chance and I drew the crap straw. Since the advancer can't be installed 180 or the points plate be rotated 180 and still be able to put the cover back on I pulled the clutch cover and did the rotation to the points gear.

It took less than 10 minutes, then the moment of truth. On the second kick it roared to life! Went to fire it back up this morning, and once again on the second kick it fired right up. I've got some carb tuning to do, but glad this thing is finally running. I'm ready to rip down the streets and see how everything I fixed holds up. Here's a quick video I shot this afternoon.



It's definitely not running great right now, but I can get it to start first kick now, so that seems like a huge win already. Looks like it's getting way too much fuel, I didn't get much time to tinker.

Derrick